Enrollment Classes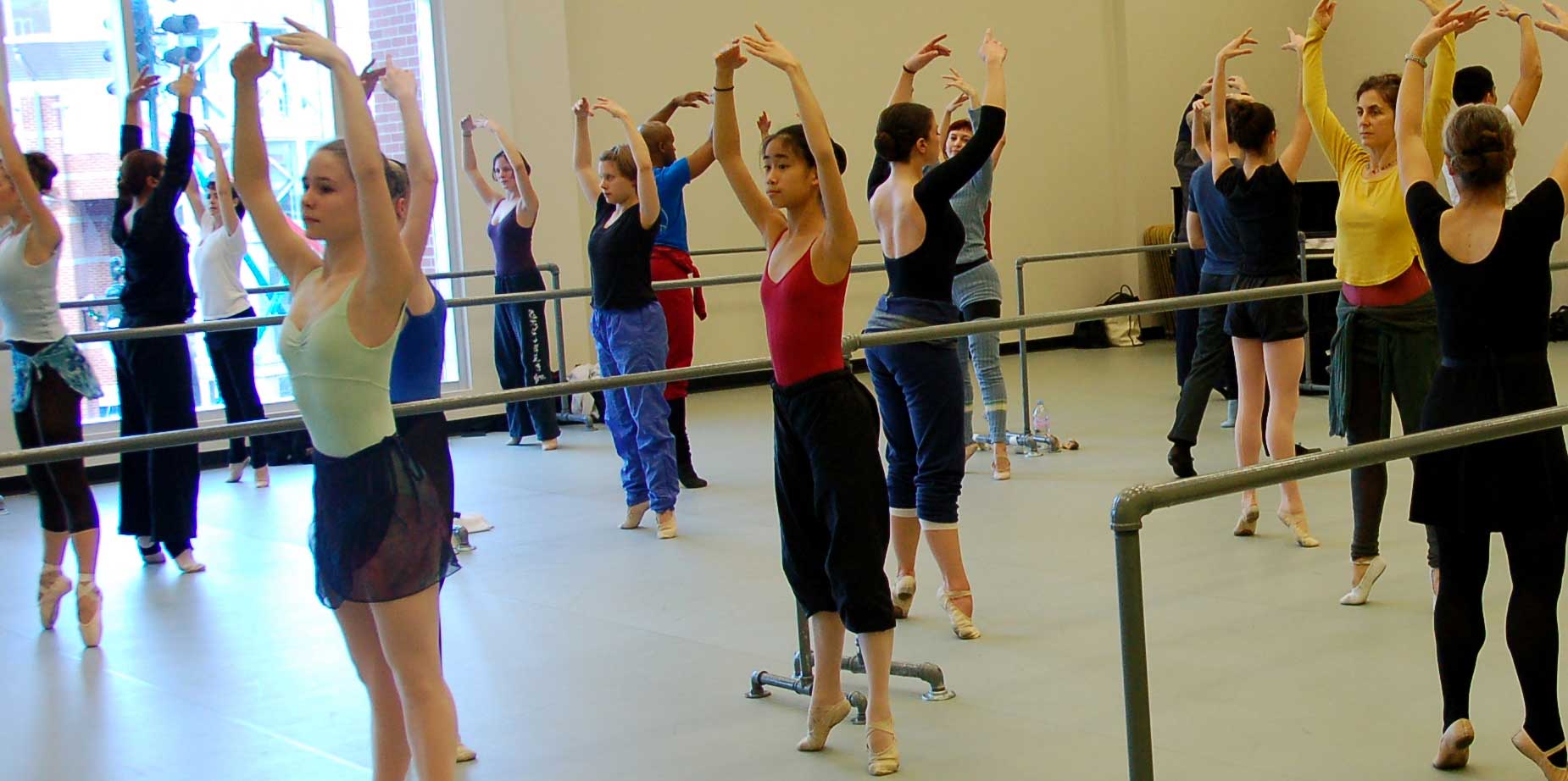 INTRO TO BALLET
For true beginners: students will learn the fundamentals of classical ballet. Each class will include the study and practice of traditional barre and center exercises with an emphasis on proper alignment, technique, and musicality.
Saturdays 12:30 – 1:30 pm
Tuition: $65 (includes 5 classes)
Sessions:
Feb 11, 18, 25, Mar 4, 11
Mar 18, 25, Apr 1, 8, 15
Apr 22, 29, May 6, 13, 20
Limit: 20 students/session. No Make-ups, No Refunds.
Register


INTRO TO BALLET II
A basic enrollment class that builds upon the fundamentals taught in our first Intro to Ballet course. Classes are slow and thorough to ensure proper alignment and understanding.
Mondays 7:30 – 8:45 pm
Tuition: $75 (includes 5 classes)
Sessions:
Feb 13, 20, 27, Mar 6, 13
Mar 20, 27, Apr 3, 10, 17
Apr 24, May 2, 8, 15, 22
Limit: 20 students/session. No Make-ups, No Refunds.
Register


ARGENTINE TANGO – Six Week Session with Phil Jones

Our six week Tango Fundamentals Program is for the beginner dancer and offered on Fridays for one and one-half hours. The aim of the program is to teach you the basic fundamentals of tango that will help you feel confident on the dance floor. We'll give you the tools you need to succeed and feel great in all of the tango social dances (milongas) around the city.
Our six weeks Fundamentals Program covers these concepts: The couple connection ("tango feeling") and its etiquette, managing spaces and energies in the embrace, understanding basic musicality, the walk in parallel and cross systems, navigation strategies for the dance floor, the spot movements, movements around an axis, movements with pivots .
Each week focuses on one fundamental concept. The first hour of class is a technique class, devoted to body awareness, control, and conditioning. We will teach you how to prepare and understand your body for Tango. No partner necessary.
Attire: Please bring your slickest soled shoes – hard leather is good – as we will be pivoting on a ballet floor. Short heels or flats for followers, but stiletto heels and very high heels are not permitted. Please bring separate shoes to dance in, not shoes you have worn outside. Wear any comfortable clothes that allow for movement.
Fridays 7:30pm – 9:00pm
Tuition: $90 (includes 6 classes)
Session:TBA
Register


ADULT WEEKEND WORKSHOP
Take a long weekend and spend it with us! Enjoy two full days of dance with our Adult Weekend Workshop led by the fabulous Mary Henley. Start your day off with Floor Barre followed by ballet class, variations, and repertory rehearsals. On Sunday there will be a showing for friends and family to showcase your hard work.
Recommended for dancers with at least 3 years of consistent training who have a working knowledge of ballet vocabulary. Dancers that regularly attend Beginner II or Adv Beginner ballet classes at MYB would feel comfortable with the material presented.
2017 Session: June 17-18
9:30 am – 4:00 pm
Tuition: $200 (Must enroll by May 15.)