Contemporary Summer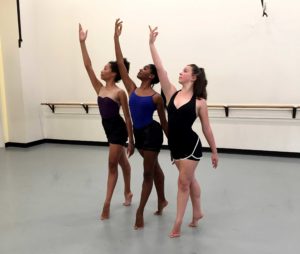 Summer Intensive (ages 11-16)
Audition Required
MYB's Intensive program provides enrolled students with a wide range of classes. In addition to a daily ballet class students are exposed to a number of other genres of dance including jazz, modern, character, core conditioning, Classical Indian and Flamenco. Students must be 11 years or older and have at least 3 years of previous ballet training and 1 year of modern/jazz.
June 26 – July 21
M – Th (8:45 am – 4:00 pm); Fri (8:45 am – 2:30 pm)
Tuition: $475/wk
Contemporary Dance Workshop: (Ages 9-12)
Audition Required
Aspiring Contemporary Ballet dancers take daily ballet and modern technique as well as other contemporary dance styles. The week long session includes rehearsal experience and culminates with an in-studio performance for family and friends.
1-week session; M-F (9:00 – 4:00 pm)
July 31 – Aug 4
Tuition: $375
---
REGISTRATION INFORMATION
Registration for all programs opens on February 17, 2017.  Registration is on a first come, first served basis. For registration details and online registration please CLICK HERE.
An audition is required prior to acceptance and enrollment for all new students 8 years old
AUDITION and HOUSING INFORMATION