Contemporary Summer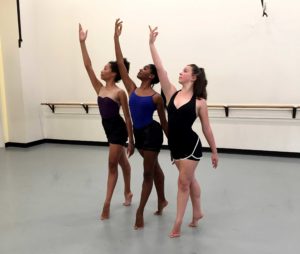 Summer Intensive (ages 11-16)
Audition Required
MYB's Intensive program provides enrolled students with a wide range of classes. In addition to a daily ballet class students are exposed to a number of other genres of dance including jazz, modern, character, core conditioning, Classical Indian and Flamenco. Students must be 11 years or older and have at least 3 years of previous ballet training and 1 year of modern/jazz.
July 9 – 20
M – Th (8:45 am – 4:00 pm); Fri (8:45 am – 2:30 pm)
Tuition: $450/wk
Contemporary Dance Workshop: (Ages 9-12)
Audition Required
Aspiring dancers take daily ballet and modern technique as well as other contemporary dance styles. The two-week long session includes rehearsal experience and culminates with an in-studio performance for family and friends.
2-week session; M-F (9:00 – 4:00 pm)
July 30 – Aug 10
Tuition: $575
---
REGISTRATION INFORMATION
Registration for all programs opens on February 16, 2018.  Registration is on a first come, first served basis.
An audition is required prior to acceptance and enrollment for all new students 8 years old and up.