Rodeo Party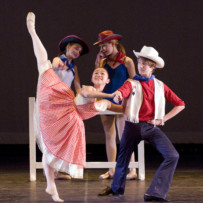 Wanted: Ballet Lovin' Cowboys & Cowgirls for MYB's Rodeo Round Up!
Rompin', dancin', craftin', and more, Games, snacks, and ballet galore! Join us for a rodeo party featuring a working rehearsal of MYB's Caroline Goes to the Rodeo.
Saturday, April 8
2:00pm – 4:00pm
Recommended for Creative Movement and Ballet I students. $30 per guest.
Register HERE by March 25.