Grand Jeté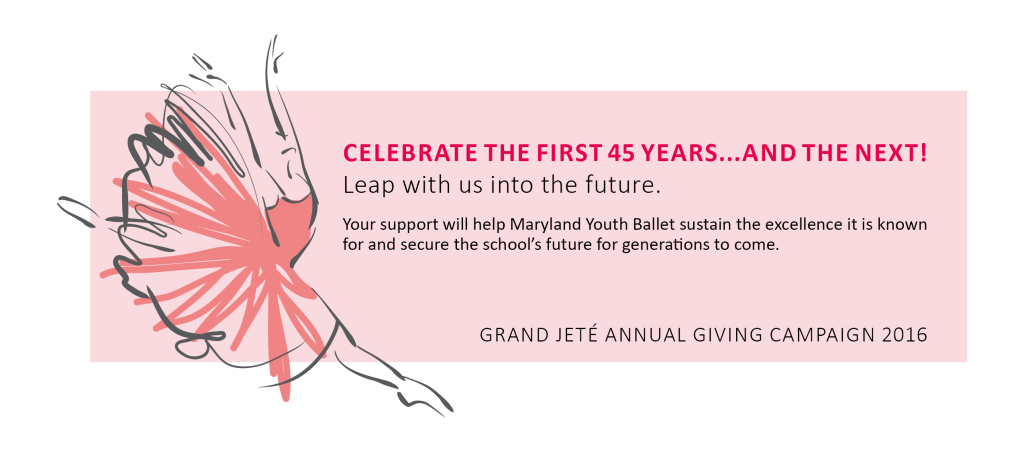 Our founder, Hortensia Fonseca, established Maryland Youth Ballet with the dream of training students to become professional dancers. From a modest beginning, MYB has met this goal year after year, decade after decade, growing to become a nationally recognized school of ballet as well as a vibrant center of cultural activity for the region.
WHEN YOU SUPPORT MYB, YOU PLAY A VITAL ROLE IN WHAT WE DO.
• MYB provides the finest classical ballet training to over 1,000 children and 600 adults annually,
• Provides free classes in local elementary schools for disadvantaged young children,
• Offers a program for physically disabled children,
• Awards over $50,000 annually in training scholarships, and
• Provides the area with professional quality ballet productions.
MYB graduates continue to join professional dance companies around the world, even starring on Broadway, making Mrs. Fonseca's dream a reality.
Please support the legacy Mrs. Fonseca started over 45 years ago.
Leap with us into the future!
Please give a gift to MYB's Grand Jeté Annual Giving Campaign TODAY!
Make a secure online donation by following the link below or complete and return the Grand Jeté donation form found HERE.